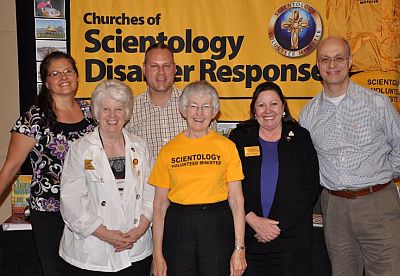 Salt Lake City—The Churches of Scientology Disaster Response (CSDR) was proud to participate with the national member organizations of the National VOAD (Voluntary Organizations Active in Disasters) attending the 17th annual conference last week in Salt Lake City, Utah. The theme of the conference was "Life Elevated…A Celebration of Service."
National VOAD is the forum where organizations share knowledge and resources throughout the disaster cycle-preparation, response and recovery - to help disaster survivors and their communities.
Members of National VOAD form a coalition of nonprofit organizations that respond to disasters as part of their overall mission, promoting the cooperation, communication, coordination and collaboration needed in disaster response not only among themselves but with local, state and federal agencies as well.
"Service to those in need is paramount," said Susan Taylor, National Director of the Churches of Scientology Disaster Response. "We do our best in times of disaster to provide whatever help is needed whether it is distributing food, water, or supplies; providing direct services to individuals in need; helping to clean up after floods; or providing spiritual care to responders, survivors or care-givers-helping them to overcome stress, shock, loss or trauma."
Scientology Volunteer Ministers specialize in providing "Scientology Assists" — simple light, non-intrusive emotional and spiritual stress relief techniques developed by Scientology Founder L. Ron Hubbard. These assists help, among many things, to restore order and calm in an area, address and alleviate the emotional and spiritual effects of physical pain, shock and trauma, relieve stress, help orient a confused or distraught individual and help survivors, responders and care-givers to cope with the immediate situation more rapidly and effectively.
CSDR volunteers reach out to those in need in the field or from their field base. Their large yellow tents are often used as PODs (points of distribution) where water, food and supplies are given to those in need. CSDR activities have ranged from helping at recent fires in California, to assisting during floods in Washington State, tornados in the mid-west, and hurricanes in Florida and the Southeast.
This last week CSDR participated with other organizations at the National VOAD conference's Exhibit Hall by having a booth where Scientology Assists demonstrations were given. During the final evening's celebration at the Salt Palace, the CSDR yellow tent was on display alongside the Red Cross and Salvation Army trucks and other agencies' emergency vehicles. CSDR volunteers offered Assists to the attendees, demonstrating their effectiveness.
Ms. Taylor noted that it is a privilege to work with so many other organizations to help those in need. "The collaborative efforts of all of us make it possible to bring real help and relief after a disaster," she said.
In establishing the Scientology Volunteer Ministers program more than 30 years ago, L. Ron Hubbard, the founder of the Scientology religion, wrote: "A Volunteer Minister does not shut his eyes to the pain, evil and injustice of existence. Rather, he is trained to handle these things and help others achieve relief from them and new personal strength as well."
For more information about the Scientology Volunteer Ministers Program, visit www.volunteerministers.org or the official Scientology web site at www.scientology.org.